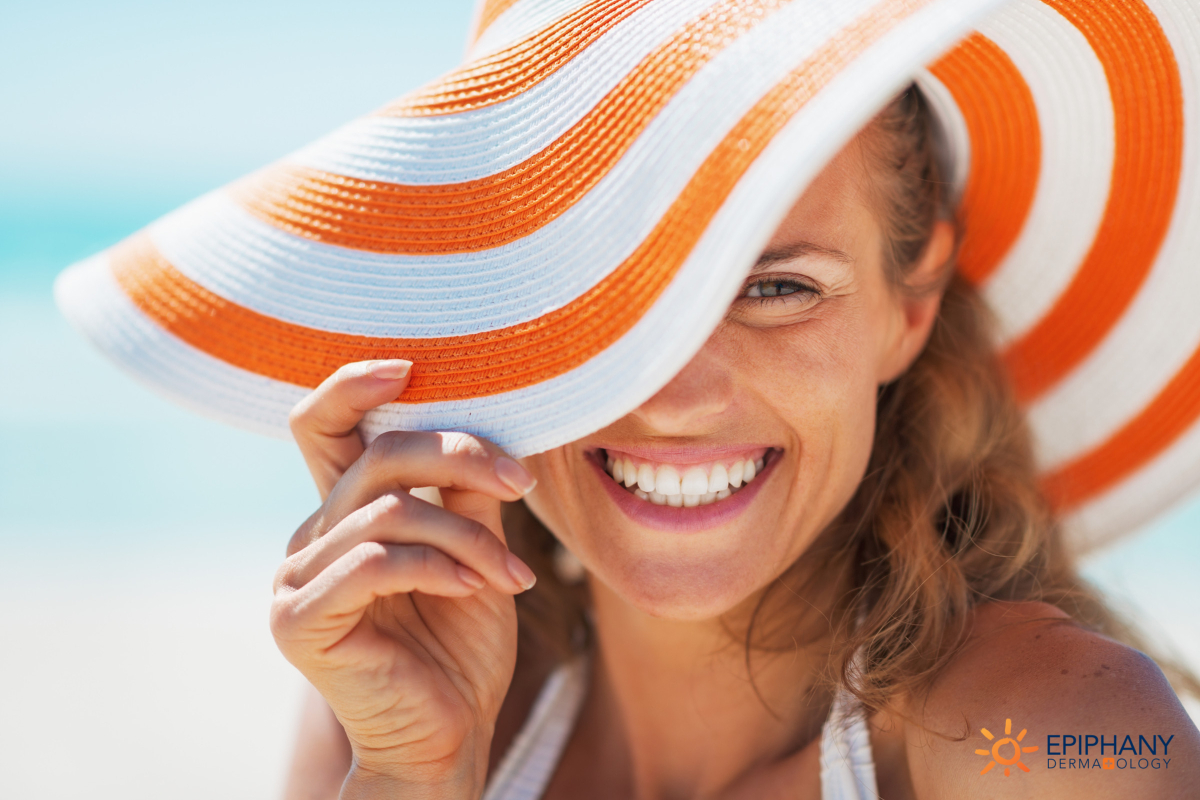 You have a million things on your mind as you pack your bags and grab your passport, but skincare is probably the last thing you're considering.
Travel affects your skin — usually for the worse. You're stressed, dehydrated, and changing your routines. So how can you keep your skin looking its best? It's simpler than you may think.
Travel skincare isn't complicated, it just takes a little prep. Before you zip your suitcase, throw in your skincare travel set and keep these five fixes (and three fails) in mind.
Travel Skincare Fails
You may not realize it, but your skin is set up for failure when you travel. Certain changes are unavoidable — you'll obviously eat different foods and be exposed to various levels of air humidity and pollution in new places. But you do have a way to control and prevent some of the factors negatively affecting your complexion. Here's what's working against you:
Change in Air
When your skin lacks moisture, it's prone to breakouts. If you're traveling by plane, you're stuck in an environment of recycled or dehydrated air. That adversely affects your skin. Plus, you're likely not drinking as much water as you would otherwise, which adds to your skin's dehydration.
Also, consider the weather at your destination. If it's colder and drier, your skin will dry out faster. If it's warmer or more humid, your skin will stay slightly oilier and be more prone to clogged pores.
Change in Skincare Routine
Traveling often means we're not following our skincare routine. Long flights, overnight flights, and road trips keep us from washing our face as we usually would. When we aren't thoroughly cleansing the skin, the dead skin cells become trapped, causing an uneven skin tone and making breakouts inevitable.
Change in Skincare Products
We also might be tempted to use hotel products rather than bring our own. But they're not formulated for our specific skin problems and may contribute to a break out.
5 Fixes for Your Travel Skincare Fails
With these complications, how could your skin not react badly? Fortunately, we have some fixes!
1. Wear minimal makeup.
Travel with the least amount of makeup possible. Even if you like to wear a full face of makeup every day, try to minimize. Opt for a tinted moisturizer or minimal concealer. The more products you apply, the increased likelihood you're trapping bacteria and dead skin cells in your skin.
2. Find travel-sized versions of your cleanser, moisturizer, and sunscreen.
Look for your regular skin care products in travel-sized containers. If you can't find any, buy the TSA-approved containers for liquids and fill them up. Just because it's a shampoo container doesn't mean you can't fill it with your moisturizer or cleanser.
Your skin reacts to new environments, lack of or increase in humidity levels, and menu changes when you're in a new place. Don't change the products you're using too. Using the same products maintains at least some normalcy for your skin, which is ideal for minimizing breakouts and inflammation.
3. Bring a facial misting spray.
Use a rose water spritzer or hydrating mist to refresh your complexion throughout the trip. You're literally adding moisture to your skin if you spritz your face with one of these products periodically during your trip, especially if you already have dry skin. These can also be helpful if you're traveling to an area where the air is drier or colder than your traditional environment.
4. Stay hydrated.
Bring a water bottle with you when you travel. You'll keep your skin hydrated from the inside out by drinking water throughout the trip. If you forget it, splurge on the airport water bottles. Yes, they're pricey, but your skin will thank you!
5. Wear sunscreen on the plane.
Always apply sunscreen before a daytime flight. Remember, you're cruising at high altitudes and closer to the sun. It's important to wear SPF 30 or greater prior to any flight, especially if you have a window seat.
Essentials for Your Travel-Sized Skin Care Kit
Now that you've thought about skincare for your trip, it's time to pack your travel-sized skin care kit. Here's what you'll need:
Gentle Cleanser: Pack your regular gentle cleansing cream to wash away the grime, sweat, and dead skin cells.
Eye Makeup Remover: Bring an easy-to-use towelette for removing your waterproof mascara and eye makeup. It'll get rid of anything your cleanser missed.
Hydrating Moisturizer: Bring your creamiest moisturizer with you — ideally one with SPF! Your skin is subject to changing climates and air conditions and needs to stay hydrated.
Sunscreen: Apply sunscreen with SPF 30 or greater every day. If it's not already in your moisturizer, bring a different product so you're keeping your skin protected no matter where your travels take you.
Acne Spot Treatment: You've increased your chances for a breakout with the stress of traveling. Bring a benzoyl peroxide or salicylic acid product in case you have a breakout.
Tip: 
If you have a pimple, apply a pea-sized amount of spot treatment and cover it with a band-aid before bed. In the morning, you'll wake up to a less inflamed, less painful, and much smaller pimple. The occlusion from the band-aid maximizes the effect of the medication – plus the product won't bleach your pillowcase.
Andrea McLin is a board-certified physician assistant in Coppell and Saginaw, TX. An active member of the American Academy of Physician Assistants, the Society of Dermatology Physician Assistants, and the Texas Academy of Physician Assistants, Andrea has over 7 years of experience and a special interest in acne, rosacea, and skin cancer prevention and treatment. In her spare time, she enjoys camping, scuba diving, and cheering for the University of Kansas Jayhawk basketball team.
Learn more about Andrea McLin.