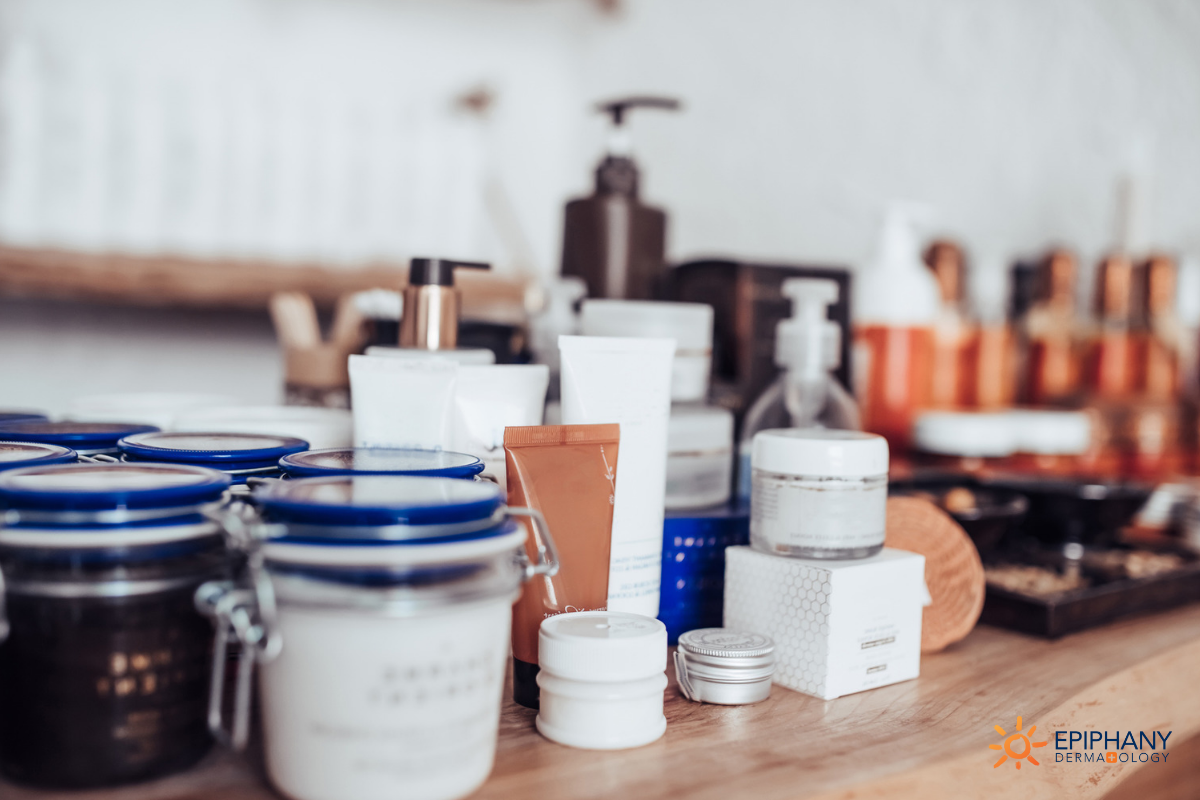 Have you ever wondered what products you really need for your skin?
When you're faced with the variety of creams, medications, cleansers, toners, and makeup on the shelves, the choice can be overwhelming.
Knowing the active ingredient makes that decision easier. When you know your skincare ingredients, you can know what's right for you. You'll be able to decipher what's okay to buy off the shelf, what you need to get from your doctor, and what difference it'll make.
Doctor's Office vs. Over the Counter Products
There's a difference in the type of products you can buy over the counter versus what's available at your dermatologist. Why? The FDA controls the amounts of active ingredients allowed for products you'd find at your local drugstore or department store. Dermatologists-offered products and prescriptions aren't always limited by those regulations. Consequently, we get products that differ in strength, price, and the time it takes to see results.
Strength
A prescription product doesn't come with the same limitations on active ingredients as your over-the-counter options. Take retinol, for example. If I go to the store and buy a retinol product, it won't be nearly as strong as what I can get in the dermatologist's office. The prescription version will have more of the active ingredient. Why does that matter? It makes it more effective — getting better results quicker.
Price
What about the price? Yes, sometimes the prescription products are more expensive. But the price may not be as different as it first seems.

Think about what you want to pay for: skincare ingredients that actually work. Let's say the drugstore retinol costs $20 but takes three or four months before you see results. That means you'll need to buy it multiple times to see the results you want. Prescribed retinol may cost five times that, but because of the higher concentration of the active ingredient, it works much more quickly and often lasts longer. Yes, it's more of an investment, but you'll get the better results quicker. Most people would rather spend the money on a product that reliably works rather than spending $20 repeatedly on a product that's not showing results.
Results
So what's better for you? Well, most of us like to see our results quickly. We live in a culture of instant gratification. The quicker we can see a difference, the better. If you want quicker results, you need stronger products.

How do you know what you're getting? Look for the percentages and asterisks. Several well-known retinol and skincare products advertise amazing results, but if you look closer, you'll see a little asterisk that says *over 16 weeks — that's four months! Plus, many of these products cost more than what you'd pay at the dermatologist and contain a lower percentage of the active ingredient.
Where to Get the Skincare Ingredients That Really Work
How do you get these highly effective products? Go to your dermatologist. No, you don't have to have skin cancer to make an appointment with this specialty doctor. Even if you just want a better skincare regimen or you want to try some anti-aging products, your dermatologist can help you explore your options. Sure, there are some great products you can buy at the drugstore, but your options aren't limited to those. And when it comes to acne, anti-aging, and texture-enhancing products, there are several essential skincare ingredients that your dermatologist can best provide.
Acne-Fighting Skincare Ingredients
When it comes to treating acne, most patients need a combination of two medications to add to their daily skincare routine. Salicylic acid works to unclog pores and remove the dead surface skin cells. Benzoyl peroxide is an antimicrobial medication that helps stop the spread of acne-causing bacteria.
The over-the-counter version of these medications just isn't strong enough to be reliably effective. The prescription-strength versions of these products work to get acne under control ASAP.
Anti-Aging Skincare Ingredients
As we age, our skin's cell turnover slows down. Ideally, we want to keep our skin cells at a 28-day turnover rate, but the process takes longer the older we get.

Retinol, glycolic acid, and lactic acid all work to get us back to the 28-day cell turnover we need to have glowing skin, diminish fine lines, and keep those signs of aging from creeping in. But you'll need a prescription-strength product to see a real difference.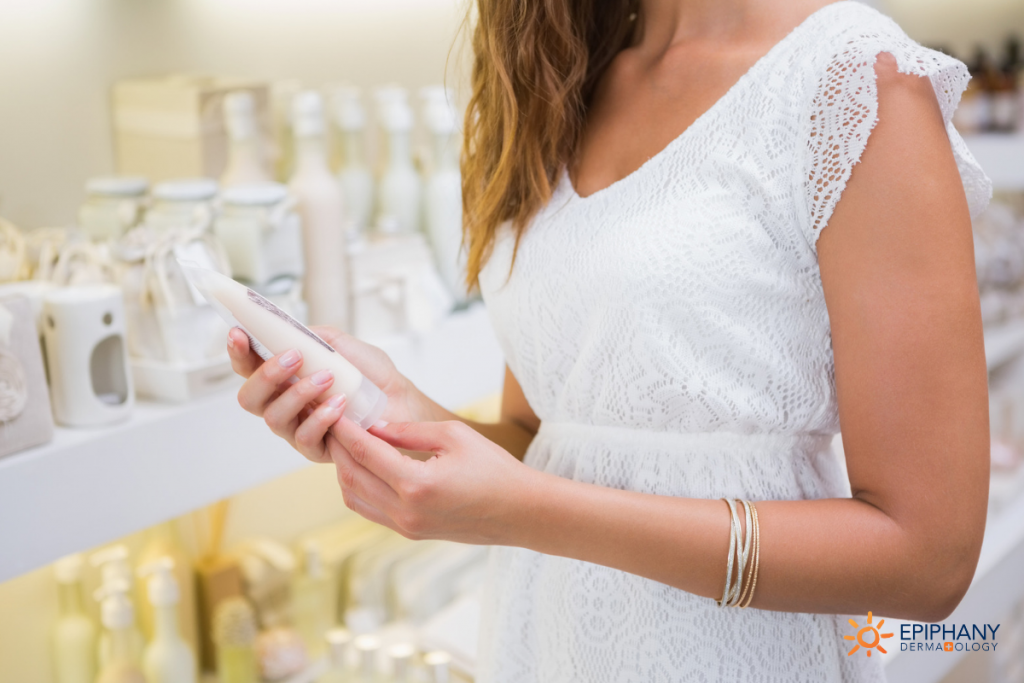 Related: Does Retinol Live Up to The Hype? Here Are 5 Things You Need to Know About the "Miracle" Product
Each of these skincare ingredients can cause irritation, so it's best to ease into an anti-aging regimen. Start by applying the medication every other night, then increase to every night if it's well-tolerated.

Don't forget sun protection! Make sure to apply sunscreen each morning as these products can make you more susceptible to sunburn.
Vitamin C
This is the powerhouse ingredient you need to help combat a multitude of skin issues. Vitamin C helps your body produce collagen — the essential protein that keeps cells healthy. But a vitamin C supplement isn't enough to see a difference. You need the topical version.

Vitamin C brings the benefits of an antioxidant when applied directly to our skin. See, our cells start to mutate as we age. Because it's an antioxidant, it neutralizes free radicals and keeps mutating cells in check. As it works to keep your cells "non-mutating," it helps prevent them from over producing melanin (which causes the age spots we hate).

Even younger people with acne benefit from vitamin C. It helps prevent hyperpigmentation after a breakout and lessens inflammation and scarring after the acne clears.

Vitamin C helps with elasticity, anti-aging, scar prevention — everything!
Hyaluronic Acid
Hyaluronic acid is a substance naturally found in the body. When a baby's born, they're full of this natural substance that keeps our skin supple and moist — especially around the eyes. But as we age, our hyaluronic acid supply decreases and our skin suffers.

Many people have heard of hyaluronic acid as a filler ingredient — it's the primary ingredient in Juvederm and Restylane — but it also has benefits as a topical ingredient. If you're interested, your dermatologist can prescribe this medication that brings moisture and fullness back to the skin.

For acne treatments, vitamin C, anti-aging products, and hyaluronic acid, definitely visit your dermatologist. For everything else, just read the label! How do you know how good the product is? Don't be distracted by the shiny bottle. Turn it around and look at the percentage of the active ingredients.

Have a question about what works best? Never hesitate to ask your dermatologist for a recommendation. Even if they don't sell or prescribe the product you need, they'll likely be able to recommend a product to get the results you're looking for.

Don't spend your money on marketing and packaging — spend it on the skincare ingredients that make a visible difference in your skin.