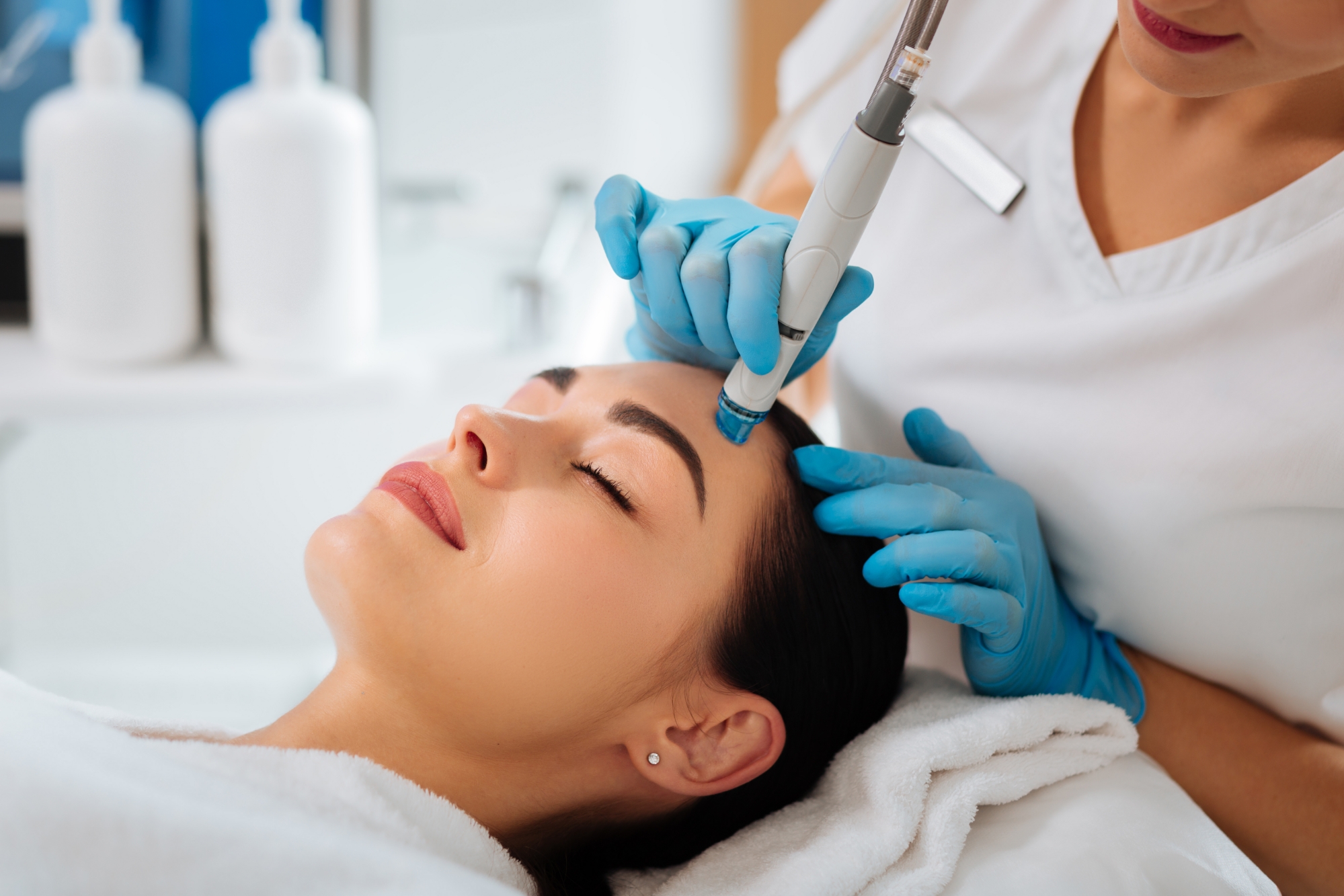 HydraFacial® is the hydradermabrasion procedure that combines cleansing, extraction, and hydration simultaneously, resulting in clearer, more beautiful skin with little-to-no downtime.
The treatment is soothing, moisturizing, non-invasive, and generally non-irritating. As with most procedures, visible results from HydraFacial® will vary from person to person. It is safe for all skin types and HydraFacial®'s unique boosting serums target a variety of complexion issues including dryness, acne-prone skin, and fine lines and wrinkles.
How HydraFacial® works
HydraFacial combines cleansing and exfoliating, as well as the infusion of intensive serums to provide immediate results and long-term benefits. Pores are cleaned with painless suction and skin is nourished with intense moisturizers that quench the skin. All treatments are customized to each patient's unique skin care needs. A series of treatments is recommended.
The HydraFacial glow
Immediately following a HydraFacial®, patients notice their skin has a youthful, radiant glow. This is a result of the hydradermabrasion and the targeted serums that are left on the skin to provide additional benefit after the treatment.
HydraFacial® treatments
There are three levels of HydraFacial® treatments that are available at Epiphany Dermatology offices (treatment names may vary from office to office). These include:
Signature HydraFacial®
The Signature HydraFacial® is an invigorating treatment that deeply cleans and exfoliates the skin. Impurities are extracted while nourishing ingredients hydrate the skin.
Deluxe HydraFacial®
Patients receive all the benefits of the Signature HydraFacial®, plus a personalized booster and LED light therapy to further reduce the signs of aging.
Platinum HydraFacial®
The Platinum HydraFacial® is the ultimate HydraFacial® experience! This detoxifying treatment begins with a manual facial massage and is followed by deep cleansing, exfoliating, and the extraction of impurities. It is both soothing and deeply hydrating. LED light therapy is also included.
What to expect during and immediately after treatment
Your skin may experience temporary irritation, tightness, or redness. These are all normal reactions that typically resolve within 72 hours depending on skin sensitivity. You may experience tingling and stinging during the treatment area. These sensations generally subside within three hours of treatment. Because the treatment area is more susceptible to sunburn, sun damage, and hyperpigmentation, it is recommended that patients avoid direct sun exposure and use a minimum of SPF 30 sunscreen.
HydraFacial® FAQs
When will I see results?
You will likely see results immediately after treatment and your skin will feel smooth and hydrated for one to four weeks. For improved, longer-lasting results, consider take-home products and a series of HydraFacial® treatments.
Is HydraFacial® only for the face?
Patients may choose HydraFacial® for many areas in addition to the face. These include the back, neck, décolletage, and hands. This wonderful treatment extends the anti-aging, smoothing, and brightening effects of the HydraFacial® to the delicate skin of the neck and décolletage, the hard-to-reach skin on the back, and the often-overlooked skin on the backs of the hands. Many Epiphany Dermatology offices also provide extractions as an add-on to the various HydraFacial® treatments.
Is HydraFacial® painful?
HydraFacials® are among the most soothing, relaxing, and comfortable aesthetic treatments available. Many patients liken a treatment to having a facial, and some patients will even fall asleep during their treatment as it's just that relaxing!
Additional Cosmetic Dermatology Resources