You've decided you want to be more diligent about your cosmetic regimen, but where should you begin? You want the best products, so you assume it's time to head to the department store cosmetic counter. Then you remember what it's actually like in there: overwhelming is an understatement.
Too many products raise too many questions: What do you need? What's the best thing for you? How much will this cost? And most importantly, what will actually work? (See: 3 Questions to Ask Before Trying the Newest Natural Skincare Products)
Don't be overwhelmed by the thought of creating a new cosmetic regimen. Our two simple rules + three basic products = a beauty routine you can wrap your mind around.
Two Rules for Creating a Cosmetic Regimen
Before you choose what to buy, understand what the product will do for you. There are many products that don't meet expectations. Ask questions to understand the goal of the product and how that will help meet your skin needs. Then, adjust your expectations accordingly.
Keep the Number of Products Low
What you don't want is a large number of expensive products. A complex treatment system does not always mean an improvement in skin. Fewer products with specific goals to protect or rejuvenate your skin is more effective than an overabundance of overcomplicated products.
Your Easy New Regimen in 3 Products
With our two simple rules in mind, it's time to select your products. The following products are the ones you should always include in your regimen and they are vitally important to the health of your skin.
Sunscreen
Wear a good sunscreen everyday, indoors or out. You need a sunscreen that blocks rays and that's comfortable to wear everyday. Daily sunscreen use prevents much of the damage that occurs from exposure to the sun and the general radiation in our offices and current environment. Sunscreen is a must.
Retinol
The second product you need is Retinol. Retinol is a Vitamin A derivative, basically a tweak of Vitamin A, that increases collagen. It helps reduce lines and wrinkles in the long term but also enhances the texture of the skin in the short term. Retinol improves the smoothness and clarity of the skin and allows for smoother makeup application. Often times, makeup can build up in particular areas or even feel caked on. Skin smoothed by Retinol prevents that from happening.
Related: Does Retinol Live Up to The Hype? Here are 5 Things You Need to Know About the "Miracle" Product.
Retinol is related to Retin-A or Tretinoin, the generic drug name. It's sort of the over-the-counter version of Retin-A. We suggest patients use SkinMedica Retinols, which we carry in our office. There are three different strengths so you can start with the lowest and work your way up as your skin adjusts.
Moisturizer
The third product, moisturizer, helps skin recover from all the washing you do, soaps you use, and wear from the weather. It's also an important follow-up to Retinol, which will cause a little peeling until your skin adjusts.
Moisturizer protects your skin and aids in the job of the skin: to keep the outside out and the inside in. Ceramides, a type of emollient, replace something thought to be missing in dry skin. CeraVe, our recommended moisturizer, uses ceramides in combination with other dermatologist-recommended ingredients. A good moisturizer treats dry skin and protects skin from further harm.
Related: Dr. Plott's 5 Skincare Essentials for MenDr. Plott's 5 Skincare Essentials for Men
You can buy all three products through your dermatologist and never have to deal with another cosmetic counter. For a price you can afford and a concept that makes sense, you now have a realistic cosmetic routine within your grasp.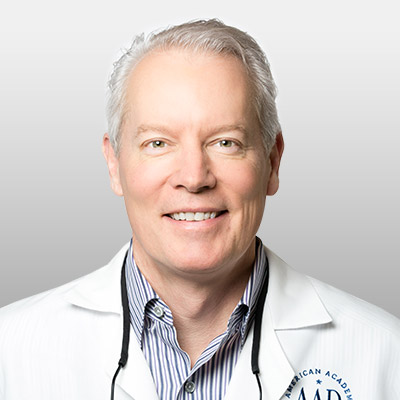 Dr. R. Todd Plott is a board-certified dermatologist in Coppell, Keller, and Saginaw, TX. His specialization and professional interests include treating patients suffering with acne, identifying and solving complex skin conditions such as psoriasis, rosacea, atopic dermatitis, and identifying and treating all types of skin cancers. In his spare time, Dr. Plott enjoys cycling, traveling with his wife, and spending time with his children and new grandson.
Learn more about Dr. Plott.