As celebrities like the Kardashians have plumped up their lips, lip augmentation has quickly become one of the most popular cosmetic procedures. But lip augmentation is not just for the "glamorous."
Many women in their 20s-30s want plump lips. They often opt for a subtle lip augmentation to give their look a little boost. Elderly women also come in to treat thinning lips. And if they have kissing lines (a.k.a. straw lines or smoker's lines), they want a procedure that fills those out.
Lip injections don't have to result in gigantic lips – even a little filler enhances the lip line. Whether you're hoping for the perfect pout, or just wish your lips could look like they used to, there are plenty of lip enhancement options to choose from.
How to Prepare for Lip Enhancement
Before you choose how to make your lips look fuller, have a result in mind. Then, bring photos to your appointment that show what you're looking for.
Do you want your lips to stick out further?
Do want a subtle fullness just around the edges?
Do you want your lips to stick up, coming from the inside?
Do you want them to be a thicker band?
Do you want your top lip bigger than your bottom lip?
Do you want to correct an uneven smile or jaw line? We can fill out one side more than the other to balance those out.
There are so many options, so come in with ideas! Then be open to recommendations about what your body will actually be able to handle. Our bodies respond to fillers differently, so based on your anatomy, we'll recommend where the filler should go. Then we can always massage it in place to get that perfect shape.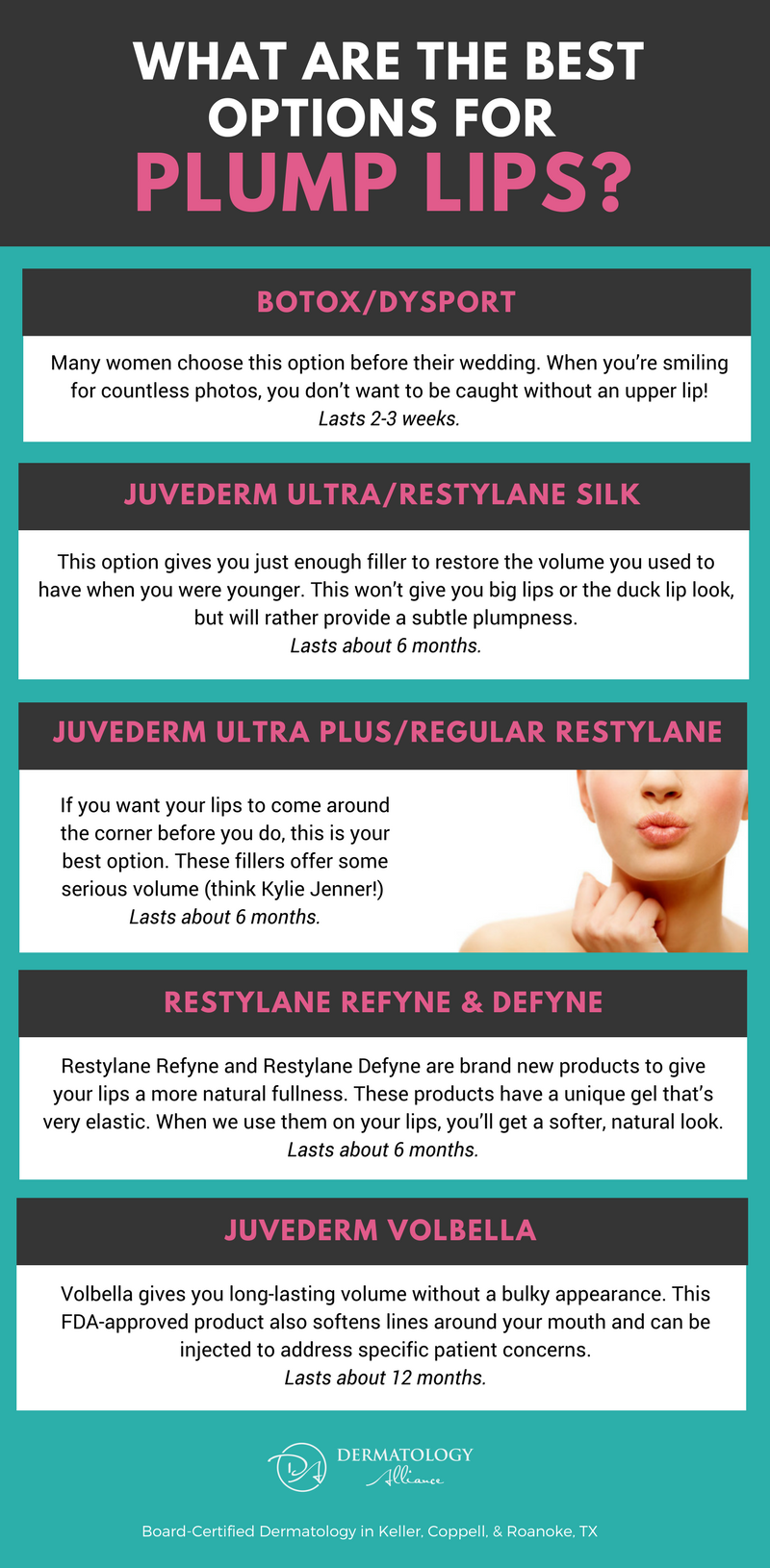 What Are the Options for Plump Lips?
1. Botox/Dysport
Botox and Dysport offer an easy fix for special events. Usually, these neurotoxins are used for the forehead, glabella, and the eye area, but if used in low doses, they also work to fill out a gummy smile. When injected into the top center part of the lip (in your Cupid's bow area), they stop the orbicular oris muscle. This big circular muscle which makes you pucker also curls your lip under. With Botox, your top lip begins to curl up, which gives it a slightly larger appearance.
Many women choose this option before their wedding. When you're smiling for countless photos, you don't want to be caught without an upper lip! You'll leave with a plumper lip that will last for 2-3 weeks.
2. Juvederm Ultra or Restylane Silk
We use Juvederm Ultra or Restylane Silk to smooth out lip lines, which I find to be two of the most delicate and sensitive fillers. They can give you just enough filler to restore the volume you used to have when you were younger. This won't give you big lips or the duck lip look, but will rather provide a subtle plumpness.
The results last around six months. Because this area moves so often, your body processes it quickly. So how long it lasts depends on how much you move your mouth!
3. Juvederm Ultra Plus or Regular Restylane
If you want your lips to come around the corner before you do, this is your best option. These fillers offer some serious volume (think Kylie Jenner!) to your lips. Juvederm Ultra Plus or Regular Restylane also last about 6 months, depending on mouth movement.
If you like the way your filler looks and want it to last a little longer, adding Botox is an additional option. We can inject just a small amount into that cupid's bow of your lip to keep the filler from moving as much.
Always remember that you will save money (and your face) in the long run by going to a professional. Cosmetic shops or MedSpas may offer the same service, and even promote great sales and coupons, but they don't have a physician onsite. If something goes wrong, you need a doctor there to dissolve the filler.
4. Restylane Refyne and Restylane Defyne
Restylane Refyne and Restylane Defyne are brand new products to give your lips a more natural fullness. These products have a unique gel that's very elastic. As we use them on your lips, you'll get a softer, natural look rather than the big, firm, puffy lips that people have come to hate.
5. Volbella
There's another new product that restores fullness to the lips. Plus, it lasts up to two years. Volbella gives you long-lasting volume without a bulky appearance. This FDA-approved product also softens lines around your mouth and can be injected to address specific patient concerns.
What to Expect After Lip Augmentation
With a good lip augmentation, you'll notice results right away. In fact, we like to show our patients how they look halfway through their treatment so they can see the difference. After we finish half the lip, they'll see just how it compares to the other half.
Most fillers contain small amounts of lidocaine, so we don't need to administer anesthesia. During your treatment, we just use ice to prepare the area. The injections are very well-tolerated. After a treatment, your lips will feel a little numb, but the numbness fades in a few hours.
Over the next few days, you may notice a little swelling or think your lips are just too big. Swelling is natural. Just be patient and use ice to calm the area as necessary. Within a few days, the swelling will disappear.
Over the next two weeks, as the gel settles, you'll see an overall improvement in your look. You may initially feel some firmness of the gel, which can last for a few days up to a month as the gel softens. The newer fillers use a softer gel, so you likely won't notice this effect.
Whether you want those knock-out plump lips or just want to erase kissing lines, lip enhancement options can give you the lip look you're after. If you're ready to find the best lip filler option for you, contact us here.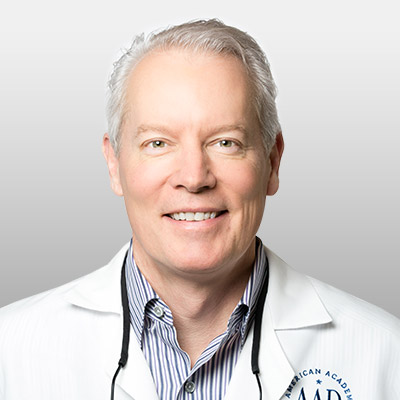 Dr. R. Todd Plott is a board-certified dermatologist in Coppell, Keller, and Saginaw, TX. His specialization and professional interests include treating patients suffering with acne, identifying and solving complex skin conditions such as psoriasis, rosacea, atopic dermatitis, and identifying and treating all types of skin cancers. In his spare time, Dr. Plott enjoys cycling, traveling with his wife, and spending time with his children and new grandson.
Learn more about Dr. Plott.