More than 2 million Americans are diagnosed with some form of skin cancer each year. However, when detected early, skin cancer can almost always be removed and cured.
All adults, even those who have never had the slightest skin issue, should be vigilant about regular self-exams on a monthly basis. Check every inch of your body – front, back, arms, legs, hands, feet, head and neck – and use a mirror when necessary.
Related: How to Spot Skin Cancer
The ABCDEs of Melanoma
The ABCDEs of Melanoma can help you understand how to spot Melanoma, which is the deadliest form of skin cancer but often resembles harmless moles. Use this as a guide when performing a self-exam of your skin.
 Asymmetry. If you were to draw a line in the middle of a mole and the two halves don't appear the same, there is asymmetry and you should see a dermatologist.
Border. The border of a harmless mole is relatively even. Look for borders that are uneven, notched or scalloped.
 Color. Look for color inconsistency in a mole. If you notice various shades of brown or black, or dashes of red, blue or white, you should see a dermatologist.
Diameter. Melanoma is usually larger than one quarter inch, or the size of a pencil eraser, when diagnosed, although they can be smaller when first detected.
Evolution. Look for moles that look different from the rest. If they are changing in size, shape or color, or you experience itching, tenderness or bleeding, you should see a dermatologist.
Take note of suspicious areas – and why they are suspicious – so you can notify your dermatologist and inspect these areas closely during your next self-exam. It's better to be overcautious.
Related: 5 Surprising Things You Didn't Know About Skin Cancer
As helpful as the ABCDEs of Melanoma can be during self-exams, it's important to schedule regular exams with a dermatologist.
A self-exam helps you be more proactive, but it doesn't make you a dermatologist. A dermatologist sees skin lesions every day and knows what good spots and bad spots look like.
Schedule an annual checkup with a dermatologist and supplement those regular visits with thorough self-exams. Skin cancer is very treatable with early detection, but we all have to do our part.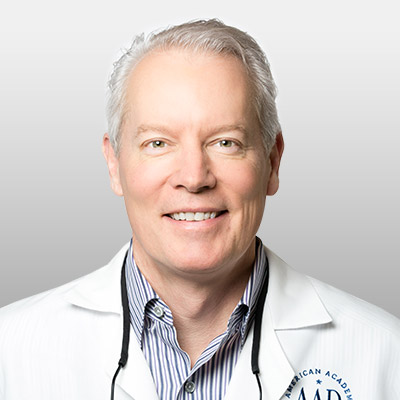 Dr. R. Todd Plott is a board-certified dermatologist in Coppell, Keller, and Saginaw, TX. His specialization and professional interests include treating patients suffering with acne, identifying and solving complex skin conditions such as psoriasis, rosacea, atopic dermatitis, and identifying and treating all types of skin cancers. In his spare time, Dr. Plott enjoys cycling, traveling with his wife, and spending time with his children and new grandson.
Learn more about Dr. Plott.