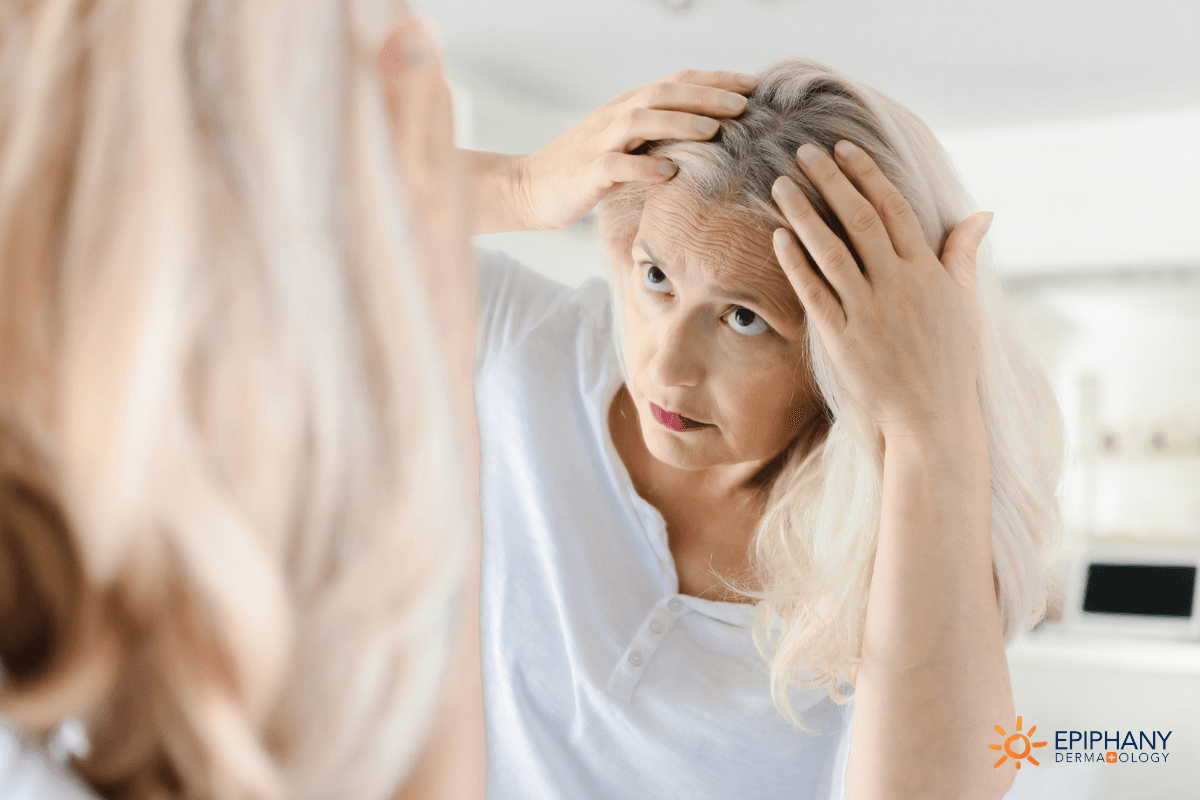 If you are losing your eyebrows, sideburns, or front hairline, you may be dealing with more than just an age-dependent hair loss. You could be facing a dermatological condition called frontal fibrosing alopecia (FFA).
Never heard of it? Neither had dermatologists 25 years ago. Many doctors today still mistakenly assume people are facing patterned baldness when they see frontotemporal hair loss, but recent studies are granting us more insight into what the cause of hair loss for those may actually be if they're not responding to traditional hair loss treatments.
Yes, this is a "new" disorder in the scope of dermatology — and we're learning more about it every year. Here's what we know about FFA so far:
How Long Has Frontal Fibrosing Alopecia Been Around?
That's a really interesting question. Was it always present and not diagnosed? Is it a new entity? Are we just better at recognizing it today?
Up until the mid-1990s, we didn't recognize frontal fibrosing alopecia as a disorder. It's potentially been occurring for hundreds of years, but it wasn't until this point that we started recognizing the pattern of a specific disease. We know hair loss can be embarrassing, and up to this point, it's highly likely that women just didn't come to their doctors with this concern. They either assumed there wasn't anything that could be done or were embarrassed by the condition. Some may not have even recognized it was happening.
However, about 25 years ago, dermatologists started to connect the dots on how these symptoms align. In 1994, a paper by Kossard and colleagues was released highlighting post-menopausal women who had hair loss on the frontal hairline and frontotemporal scalp. Doctors began to relate this hair loss to a hormone-triggered disorder, as the majority of the women were postmenopausal. Over the next ten years, this disease seemed to become more and more common.
What Are the Symptoms of Frontal Fibrosing Alopecia?
How do you know if you are experiencing symptoms and signs of frontal fibrosing alopecia and not just hereditary hair loss? Pay attention to where the hair loss starts to happen and other symptoms that may accompany it. FFA includes frontal hair loss for over 99% of diagnosed patients and, for women, often begins with the loss of eyebrows. Typically, other symptoms occur alongside these primary indicators.
Primary symptoms include:
Hair loss in the frontal or temporal areas

Loss of the eyebrows

Loss of hair in the sideburn area

Redness or itching around the areas prior to hair loss
Some women also lose their eyelashes, but that's not as common.
Many dermatologists believe there is an overlap in FFA and lichen planopilaris (LPP). LPP is a scarring type of hair loss that also starts with an itchy, red scalp that can happen all over, including the vertex of the scalp. When it's seen in the frontal hairline, that's when we diagnose it as FFA.
When a biopsy is done on the hair, a pathologist can look for specific signs that indicate frontal fibrosing alopecia (similar pathologic appearance as lichen planopilaris). They will notice a scarring that differentiates FFA from male or female-pattern alopecia, alopecia areata, and other forms of non-scarring hair loss.
These patients may also have bumps (called papules) on the front of the forehead. When biopsied, these papules often look like the areas of scarring hair loss.
Additionally, these patients may have lichen planus, an inflammatory condition of the skin that typically presents small, itchy, purple papules on the skin, in the oral cavity, or vulva-vaginal area. Sometimes, this condition is recognized by the OB-GYN first and isn't presented to the dermatologist until other symptoms appear. However, if you ask patients with FFA if they have rashes in these areas, about 15% of them do.
Criteria for Diagnosis of Frontal Fibrosing Alopecia
The formal diagnostic criteria proposed and published by Dr. Stan Tolkachjov and a group of dermatologists from the Mayo Clinic include:
Major
Cicatricial alopecia of the frontal, temporal, or frontotemporal scalp on examination, in the absence of follicular keratotic papules on the body

Diffuse bilateral eyebrow cicatricial alopecia
Minor
Perifollicular erythema, perifollicular hyperkeratosis, or solitary hairs on physical or trichoscopic examination in a field of frontal/frontotemporal cicatricial alopecia

Histopathologic features of cicatricial alopecia in the pattern of FFA or LPP on biopsy*

Involvement (hair loss, perifollicular erythema, or perifollicular hyperkeratosis) of additional FFA sites: occipital area, facial hair, sideburns, or body hairy

Noninflammatory facial papules

Preceding or concurrent symptoms, such as pruritus or pain, at areas of involvement
Who Is at Risk for Frontal Fibrosing Alopecia?
Frontal Fibrosing Alopecia most commonly affects peri- or post-menopausal women in their 50-60s. We think that women who have undergone hysterectomies or experienced early menopause may be more susceptible to FFA, but the exact causes have not yet been proven.
Frontal fibrosing alopecia can also appear in men, typically in their 40s, but as early as their mid-20s. With men, this disease is much less common for several reasons.
First, we may not recognize it because hair loss is a more common occurrence. Also, men are less susceptible to these assumed hormonal triggers. There may be an increased likelihood of FFA in men who have undergone hormonal treatment for prostate cancer and other disorders or who experience other hormone imbalances, but that is still being studied.
Environmental triggers such as minerals and microparticles applied as part of makeup, hair products, and sunscreens have been proposed. However, additional studies are still needed to better outline potential environmental or cosmetic associations of FFA. The lack of causal data shouldn't keep dermatologists from currently recommending physical blocking sunscreens.
How Common Is Frontal Fibrosing Alopecia?
We don't know exactly how common this disease is. Because FFA is still so newly identified, there are not yet thorough population-based studies on the topic, and the incidence and prevalence may vary among different countries. However, clinicians believe it is more common than is documented.
Many women go to other providers for symptoms associated with this disease first. Often, they talk to their primary care physician, OB-GYN, or even their esthetician about the symptoms rather than a dermatologist. Because of this, we're working to make more doctors, as well as hairstylists, barbers, and the general population, aware of this condition.
In fact, we recently published a paper in the Mayo Clinic proceedings, a high-impact general medical journal, rather than a dermatological publication to help make other providers aware of frontal fibrosing alopecia.
What Should Women Know About Frontal Fibrosing Alopecia?
Don't be ashamed of your symptoms. Too many women are embarrassed of their hair loss, especially if they're also noticing other unpleasant symptoms in more sensitive areas. It's important to talk to your dermatologist if you have questions or are showing the aforementioned symptoms associated with FFA.
Frontal fibrosing alopecia does not have to change your lifestyle or damage your self-image. In fact, dermatologists are working to learn more about this disorder so we can continue to develop effective frontal fibrosing alopecia treatments.
Are There Frontal Fibrosing Alopecia Treatments?
Hair loss is a difficult disorder. Unfortunately, treating FFA is even harder, and we don't have a specific medication or a specific shampoo. Dermatologists are still attempting to understand this disorder and how to best stop its effects.
Most dermatologists recommend a combination treatment options to fight this type of hair loss. Treatments include:
corticosteroid injections,

topical corticosteroids,

hydroxychloroquine (an anti-malarial medication),

Finasteride (Propecia) and Dutasteride (Proscar), medications designed for prostate health and male-pattern hair loss,

Isotretinoin (formerly called Accutane),

And several others.
Currently, we don't have one frontal fibrosing alopecia treatment that's consistently producing the results we want. We also do not yet have a means to regrow hair that is already lost. Hair transplants are not yet a viable solution to this type of hair loss due to the scarring of the tissue to which the new follicles are transplanted. In most hair transplant trials, transplants failed within four years in the cases of scarring alopecia.
In recent research studies, we're exploring the effects that particles in sunscreen and makeup may have on the hair follicle. We're also trying to see if other hormonal, patient, or environmental factors may contribute to this disorder.
While this disorder may be unique to our time, it also may have been around for hundreds of years. If you look at old paintings of queens like Mary, Queen of Scots, you'll notice significant hair loss on the frontal scalp, temples, and eyebrows. Similar patterns of hair loss have been demonstrated throughout art and pop culture. The more we can understand about the causes/triggers, natural progression, and other associations for FFA, the better we can treat it.
Treating frontal fibrosing alopecia is still a trial-and-error process for the clinician and patient, but hopefully over time — with more experience and knowledge — we'll develop better treatments to both stop hair loss and rejuvenate hair growth.
For now, there are more questions than answers. But the more people who become aware of FFA and its symptoms, the more opportunities we'll have to find solutions for patients who experience its effects. If you're experiencing frontal hair loss or other symptoms of FFA, call your dermatologist to schedule an appointment to explore the best treatment options for you.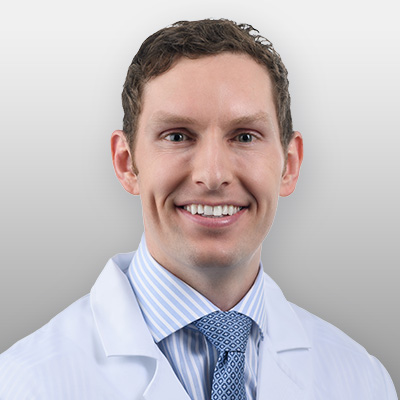 Dr. Stan Tolkachjov is a board-certified dermatologist in Frisco and Rockwall, TX. He has a particular interest in skin cancers and rare adnexal malignancies, Mohs surgery and complex facial reconstruction, pyoderma gangrenosum, and neutrophilic dermatoses. In his spare time, Dr. Tolkachjov enjoys spending time with his family, trivia, sports, travel, and mentoring students, residents, fellows, as well as sharing ideas with his colleagues to improve patient care.