Most of us are familiar with the word "Botox," but a similar product, Dysport, is another great option for reducing the appearance of wrinkles. When faced with the two options, many people have questions about the similarities and differences between these two products. Here's what you can expect from a Botox or Dysport treatment.
What are Botox and Dysport?
Botox and Dysport are both used to reduce the appearance of lines or creases on the forehead, as well as wrinkles and crow's feet around the eyes. They can also be used to give you more of an arch when you raise your eyebrows to open up the eyes.
With very little downtime, Botox and Dysport can improve your self-confidence by making you look younger and more rested. Unlike surgery, if you don't like the treatment itself or the results delivered, it eventually goes away on its own. Surgery is also riskier and more expensive.
For people who have been diagnosed with hyperhidrosis, or severe, excessive sweating, these treatments can even provide up six months of relief. Some insurance companies provide coverage for this.
The Similarities
Both Botox and Dysport are products of Botulinum toxin, a substance that blocks the nerve's ability to stimulate the muscle to contract. When the muscles in the forehead don't contract or flex, the skin doesn't bend or crease.
Wrinkles that were previously created by bending and creasing go away as the skin naturally turns over skin cells. The results last approximately three months for both Botox and Dysport, and wrinkles will start to return during the fourth month.
With the exception of accessory molecules, Botox and Dysport are the same. They share the same active components of botulinum toxins.
The Differences
Botox takes about five days to work, while Dysport only takes about two days. If you're going to an industry conference or a wedding this weekend and want the treatment to kick in before the event, Dysport makes the most sense.
Also, some patients say Dysport doesn't hurt quite as much as Botox. If you're a little skittish about injections, this may be an important factor to consider.
What Should I Expect During a Botox or Dysport Treatment?
A Botox or Dysport treatment takes about five minutes and there's very little discomfort. We simply clean the area to be treated and perform a series of injections using an extremely small needle.
Recovery time is very fast. In as little as five or 10 minutes, many patients will feel as if the treatment never happened.
Side effects are minimal. People with fair or delicate skin may notice temporary redness or bruising, and some patients will have a slight headache.
The Importance of Seeing a Professional
Unfortunately, there are a number of people offering Botox and Dysport who aren't properly trained or educated. If not applied correctly, these treatments can cause the eyebrow to drop. Some people end up with an angry look, while others find it difficult to open their eyes.
A board certified dermatologist has been medically trained to understand how the muscles work. Dermatologists know precisely where the product should go so you enjoy the best possible result.
If you have unwanted lines or wrinkles on your forehead or around your eyes and would like to learn more about Botox and Dysport, please contact us to schedule a consultation. Enhancing your appearance and boosting your confidence may be much simpler than you think.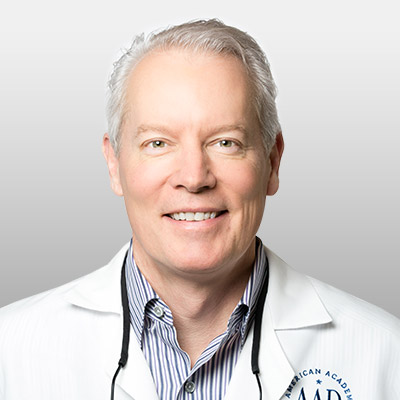 Dr. R. Todd Plott is a board-certified dermatologist in Coppell, Keller, and Saginaw, TX. His specialization and professional interests include treating patients suffering with acne, identifying and solving complex skin conditions such as psoriasis, rosacea, atopic dermatitis, and identifying and treating all types of skin cancers. In his spare time, Dr. Plott enjoys cycling, traveling with his wife, and spending time with his children and new grandson.
Learn more about Dr. Plott.