Using Fillers to Correct Marionette Lines, Facial Wrinkles, and Bags Under Your Eyes
Age may bring wisdom, but it also brings lines and wrinkles. Especially on your face.
You've laughed, cried, and reacted with your expressions for years. You may love the memories, but is there really a need to see lines around your face as evidence of a life well-lived?
If you're tired of the marionette lines and tear troughs, an injectable filler may be your solution.
What Are Injectable Fillers?
When we talk about "fillers," we're not talking Botox. Botox stays above the eyes and works with the nerves and muscles to relax wrinkles. Fillers stay below the eyes and use hydration to fill in wrinkles.
Yes, both products are injectable, but they deal with the lines differently. Fillers work exactly as the name implies: the solution fills the line or wrinkle.
How Do Injectable Fillers Work?
All fillers are hyaluronic acid-based solutions. The formula may vary slightly from one product to the next, but the concept is the same. Fillers simply attract water to the places where they are injected.
Think about building a house. Beams are placed strategically to frame the house and maintain its form. Fillers act like like beams framing the shape of the skin. The water provides support for the skin giving it more volume and rigidity. In the process, the lines and wrinkles fade or disappear altogether.
What Problems Can I Fix with Fillers?
If you're wondering where you can use fillers, consider the places that frequently bend with normal facial movements. When your skin constantly creases, lines creep in and facial features may change.
The corners of the mouth may now turn downwards. Perhaps there's now a visible line connecting your nose and mouth (We call that a nasolabial fold.) Maybe you have the dreaded marionette line below each side of the mouth. We can easily treat each of these areas with fillers.
Sometimes the best approach is to fill these areas directly. Other times we turn to the cheeks for support. Certain fillers can be injected into the cheeks to provide a little more volume. Consequently, we create a more forward projection for your face. This drastically improves nasolabial lines by filling and lifting from above.
Patients also seek help with the "tear trough" or under-eye area that sinks in with time. Fillers provide a lift for that skin and can eliminate both the brown circles and hollow look under the eyes.
Each of these facial areas are simply low spots that need a little pumping up. Filler does just that!
What Are My Options?
When it comes to which fillers to use, the best approach is to visit your dermatologist for a consultation. Juvederm and Restylane are the two companies that produce these products. Each make variations for different places on the face depending on what you're trying to accomplish. For instance, some products are used specifically for projection in the cheeks. Others are for under-eye issues. When we meet, we'll talk about the areas you want to improve and then select the product that works best for that issue.
Lines need not be a tell-tale sign of your age. Injectable fillers can erase those lines in no time.  Why live with the marks when fillers make the solution so simple? Contact us to schedule a consultation and we'll have you well on your way to younger looking skin.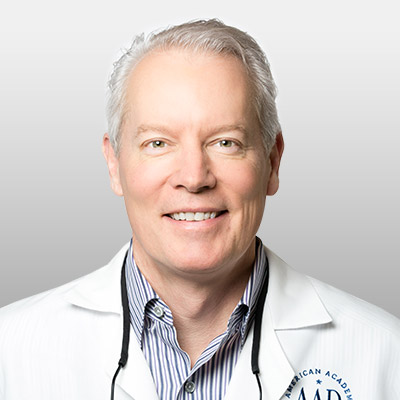 Dr. R. Todd Plott is a board-certified dermatologist in Coppell, Keller, and Saginaw, TX. His specialization and professional interests include treating patients suffering with acne, identifying and solving complex skin conditions such as psoriasis, rosacea, atopic dermatitis, and identifying and treating all types of skin cancers. In his spare time, Dr. Plott enjoys cycling, traveling with his wife, and spending time with his children and new grandson.
Learn more about Dr. Plott.