Have you ever baked a cake only to be disappointed when you pulled it out of the oven?
You wanted a fluffy, moist dessert, but instead you ended up with a flat, dry sheet of overcooked batter. What happened? You forgot the eggs! And without this key ingredient, your cake won't turn out like you'd hoped.
If you're dealing with wrinkled, dry, flat skin, the same thing is happening to your skin. You're missing the key ingredient — collagen. And without this key ingredient, you're not going to see that fresh, smooth complexion you've been craving.
Here's how collagen gives your skin the fullness it needs to look its best and what you can do to get it back!
What Is Collagen Anyway?
Collagen is a protein that's everywhere in mammals — bones, muscles, skin, tissues. It has different functions in different places. But in the skin, it gives volume and thickness. Unfortunately, as we age, the cells that make collagen, called fibroblasts, either disappear or become less active.
What Happens When Your Body Stops Producing It?
The less collagen you have, the more wrinkles you get. The skin becomes thinner, which means it is much more susceptible to fine lines and wrinkles. So what can you do about it?
Goal #1: Prevent Collagen Loss
Like most skin care regimens, preventing collagen loss starts with sun protection. See, sun exposure plays a major role in damaging fibroblasts. So we want to prevent those collagen-producing cells from being damaged. The best way to do that is through regular sunscreen application — even when it's not summertime.
Related: How to Protect Your Skin From Winter Sun Damage
Why? Well, think of someone's neck that's been overexposed to the sun. We've all seen it — it looks like bright red chicken skin. That is what you're trying to avoid. This red chicken skin look is just a result of sun damage. Over time, sun damages the fibroblasts and the skin thins so much that the blood vessels show through, giving it that bright red color.
Sunscreen helps prevent your skin from getting to this point. But if your skin is already reminding you too much of chicken skin, it's time to talk about repair.
Goal #2: Stimulate Collagen Production
While regular sunscreen application is essential, it's only part of the solution. Dermatologists also know how to make more collagen for the skin. And there are several ways we can plump up the skin and stimulate fibroblasts to produce more collagen.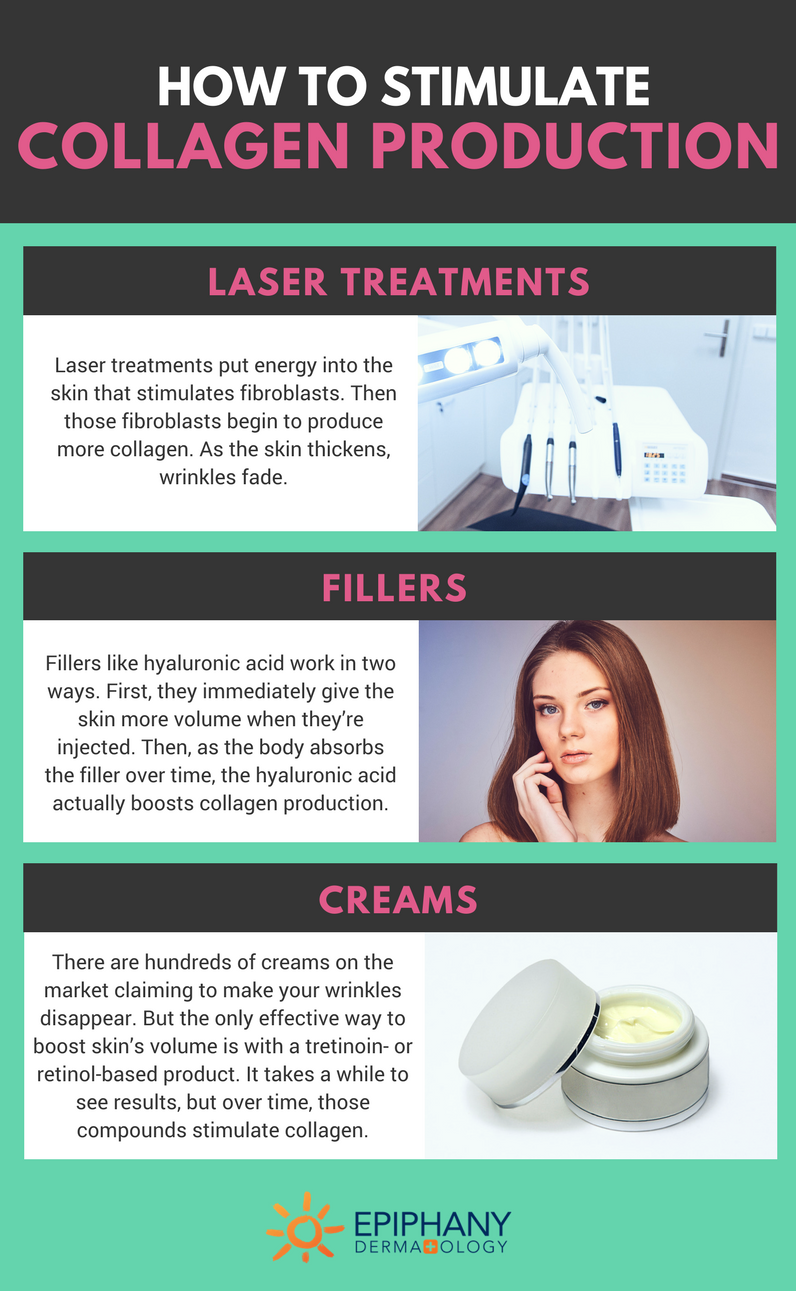 1. Laser treatments
How do laser treatments increase collagen? They put energy into the skin that stimulates fibroblasts. Then those fibroblasts begin to produce more collagen. As the skin thickens, wrinkles fade.
2. Fillers
We can also inject fillers to restore volume to your skin. Fillers like hyaluronic acid work in two ways. First, they immediately give the skin more volume when they're injected. Then, as the body absorbs the filler over time, the hyaluronic acid actually boosts collagen production.
Here's how it works: Hyaluronic acid is a naturally occurring substance in our skin. It keeps our skin looking full and fresh. And the younger we are, the more we have.
As we age, our hyaluronic acid level drops dramatically. But when we inject it, we revitalize the skin to its younger, fuller look.
3. Creams
There are hundreds of creams on the market claiming to make your wrinkles disappear. But the only effective way to boost your skin's volume is with a tretinoin- or retinol-based product. It takes a while to see results, but over time, those compounds stimulate collagen. That's how they prevent lines and wrinkles. But if a product doesn't have either of those ingredients, it won't work.
Related: How to Thicken Your Skin: Causes and Treatments for Thin Skin
So, if you want a topical product, visit your dermatologist for a prescription or look for milder versions in beauty creams. Just read the ingredients carefully to make sure you're buying a product that will make a difference.
Unlike the cake, droopy, wrinkled skin isn't a lost cause. If you're looking to regain volume in your skin, visit your dermatologist to see what options for increasing collagen will work best for you.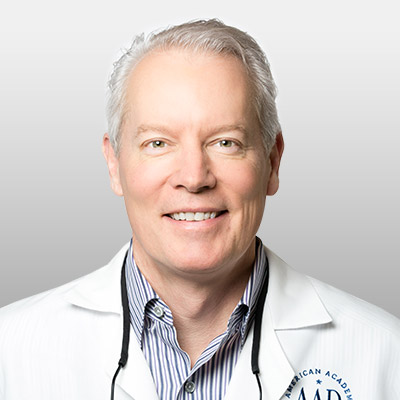 Dr. R. Todd Plott is a board-certified dermatologist in Coppell, Keller, and Saginaw, TX. His specialization and professional interests include treating patients suffering with acne, identifying and solving complex skin conditions such as psoriasis, rosacea, atopic dermatitis, and identifying and treating all types of skin cancers. In his spare time, Dr. Plott enjoys cycling, traveling with his wife, and spending time with his children and new grandson.
Learn more about Dr. Plott.